Long story of gastric pain torturing for ten years, community healthcare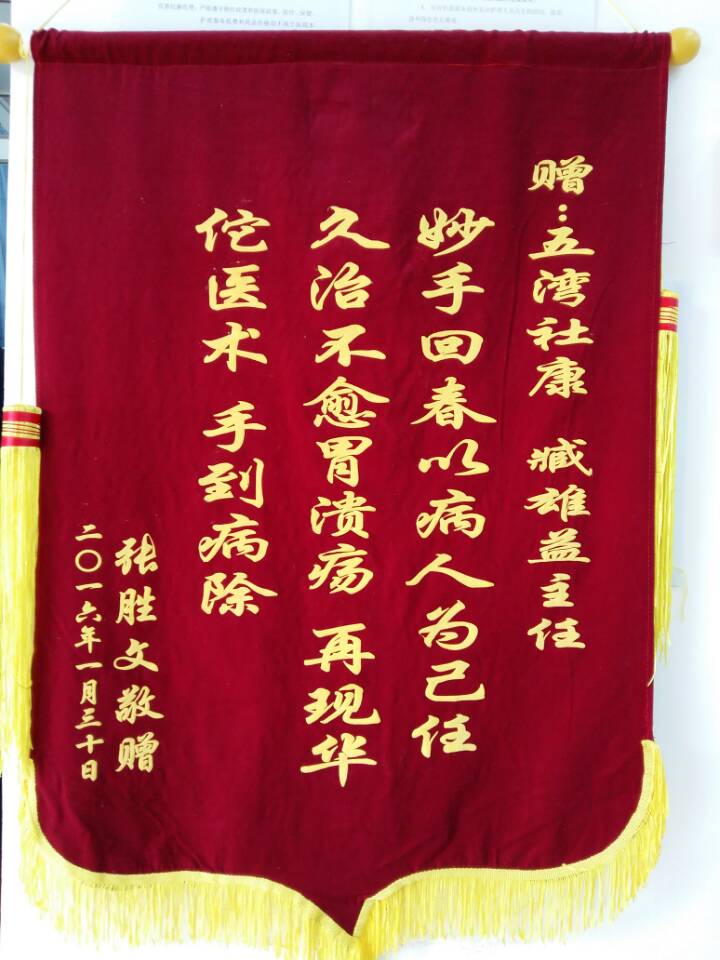 On the morning of February 20, shekou hospital five bay club Kang Gang open the door, bus group, a teacher in shenzhen with a bright red banner happily took social health center, to the director of the center for ZangXiongYi thousand thanks.
Zhang teacher is an old stomach trouble patient, suffering from stomach pain, abdominal distension, more than 10 years, repeated attacks, had intermittent appear black, and several large hospital treatment, short term, though for a while, but the long-term effect is not good, repeated attacks, for many years, zhang teacher gradually lost confidence. In 2015, an accidental opportunity, zhang teacher listen to colleagues about five bay club director kang ZangXiongYi good digestive tract diseases, cure for treating digestive system diseases have unique experience, and the world.
ZangXiongYi seriously listened to the patient's history of zhang teacher's statement and the treatment experience for many years, access to his medical history and the test results, and has carried on the detailed physical examination, found and to find a teacher a gastric ulcer break out repeatedly, one reason: bus driver zhang teacher, meals not timing, famine, hungry, often lead to suffering from stomach trouble and aggravate gradually, in spite of many go to a doctor without regular medication, stomach pain medicine is stopped, so break out repeatedly, the heavier the cure can understand.
ZangXiongYi find out the crux of the problem, decisive prescribing treatment. Significant improvement after a week, zhang teacher condition, again after more than three months of regular treatment, zhang teacher condition fully, more than a year later, in a stable condition, not to recur. Check gastroscope, gastric ulcer heals for many years.
Zhang teacher said happily: "Zang director's skill, they put bothers me more than a decade of chronic stomach disease to cure, Zang, director of the medical skills, not only is patience to talk with me, let me regain confidence to fight."
To thank, just over the years, a teacher is dedicated to ZangXiongYi made a banner, in the face of a master thank, ZangXiongYi relieved to say: "remove sickness is the first duty of a doctor for the patient, the patient's health is the responsibility of the physician, patients with disease of recovery is the best return for the doctor and comfort."