Shekou Hospital introducing international advanced digestive endoscopy system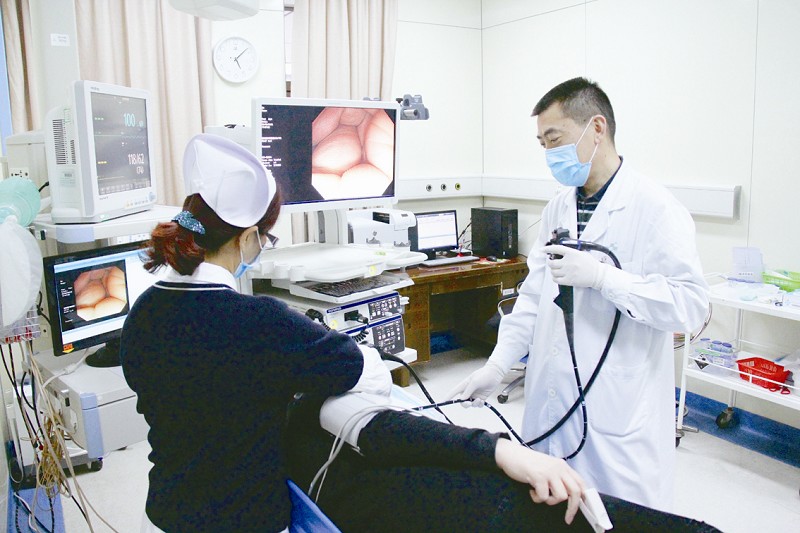 Recently, shekou hospital digestive internal medicine has introduced the international high-end Olympus 290 digestive endoscopy system, has been put into clinical use.
It is understood that the system is the latest generation of multipurpose gastrointestinal endoscopic diagnosis and treatment system, it adopts the latest optical digital technology, NBI (narrow-band imaging) observation distance is twice the last generation system, can more clear and careful observation of the digestive tract caused by small groups and hidden lesions, help doctors accurately and quickly found lesions, improve the diagnosis of digestive tract early carcinoma and precancerous lesions, realization of intestines and stomach disease "early detection, early diagnosis, early treatment", and benefit more patients.
Gastrointestinal endoscopy is a physician in the diagnosis of gastric and intestinal disease diagnosis and treatment of choice for the way. Because of endoscope can enter human body, direct lesions, as if a camera in the body, could help doctors close look inside the digestive tract state of true health. Olympus 290 system with NBI narrow-band imaging technology, can provide more clear and accurate site of imaging, not only can accurately observe the digestive tract mucosa epithelial morphology, can also observe the epithelial vascular network form, to some small lesions associated with microvascular changes have nowhere to hide, succeeded in improving the capacity of the hospital for early diagnosis and treatment of digestive tract cancer, give the patients more cure.
Shekou hospital digestive internal medicine is committed to improve the digestive tract of early carcinoma and precancerous lesions early detection rate, has been to standardized operation of stomach and intestines. In recent years, carried out a number of endoscopic minimally invasive treatment for early treatment of digestive tract cancer of new technology and new projects, constantly upgrading its diagnosis and treatment technology. Newly introduced Olympus 290 digestive endoscopy system is greatly boost its digestive internal medicine diagnosis and treatment technology upgrade, ability to make early diagnosis and treatment of digestive tract cancer to the next level, better realize the gastrointestinal diseases of "early discovery, early diagnosis, early treatment", in response to the increasing health service demand in patients with gastrointestinal tract, gastrointestinal health guardian shekou area residents.
According to reporter understanding, in recent years the stomach cancer, esophageal cancer, colorectal cancer and other digestive tract cancer incidence and mortality are among the best in the top 10 malignant tumors. The digestive tract cancer patients in the early modern medical conditions, if get timely treatment, the 5 - year survival rate can be more than 90%, and once delay to middle-late, it is difficult to more than 10% chance of cure. So "early detection, early diagnosis and early treatment" intestines and stomach disease is very important.